The worst and the best Chinese I met in a day
The worst and the best Chinese I met in a day
发布时间:2015-04-16 19:34
阅读:15次
评论:(0)
The best and the worst Chinese I meet in one day
By Michael Murphy (chinadaily.com.cn)
Updated: 2015-04-15 14:23
CommentsPrintMailLargeMediumSmall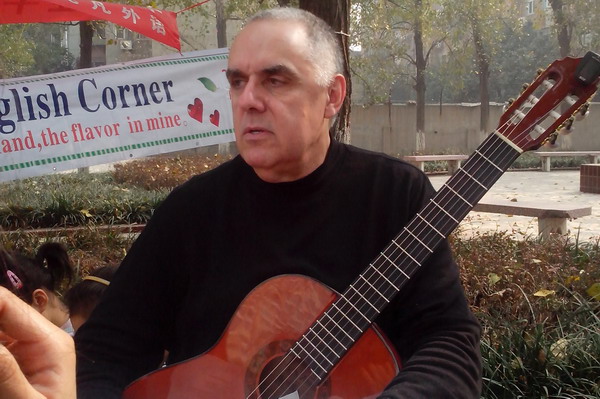 The author volunteers at an English corner, singing songs with English learners in Zhengzhou, capital city of Central China's Henan province. [Photo provided to China Daily]
If you've followed my story about recent events, you already know.
But, if you haven't, let me recap several things.
I moved into a new apartment in November of 2014.
I paid a year in advance along with management fees, water (for a full year) and heat. Altogether, I spent a little more than 40,000 RMB($6,444 dollars). I had a lease with a management company.
As far as I knew, they owned the property (I later found out that they didn't). In December, a lady shows up at my door claiming she is the owner and that the management company hadn't paid her.
She asked for my help in proving that I'd paid them. I was willing to help her. I had my contract and all my receipts.
That issue passed and apparently she got her money. I never heard from her again.
About a month ago, on March 14, she started contacting me again saying she'd not been paid. She also started giving me threats that she would take the apartment and force me to move even though she knew that I was paid through October, 2015.
I went to the management company and realized that the company was about to go bankrupt. Many people were there also trying to collect money from this company. It was a pretty bad scene with people yelling at each other and a near verbal riot.
Threats continued from the owner of the property. She was threatening to change the locks and take possession of all of my things. (This is a very clear, black and white situation in the West. She would be charged with harassment, threats and theft if she took my things in the USA.
It would be very easy to report her to the authorities and stop her threats and attempts at intimidation.) I'd done nothing wrong. I paid everything that I was required to pay. I paid immediately when told how much to pay. (I take care of my business.)
A week ago, she turned off my electricity. I checked at the Bank of China and was told that I had too much money on deposit there to cover my electricity for several months.
I checked with the building management company (a property/maintenance company) and they told me that the owner had cut my electricity. I got a lawyer there quickly who threatened to sue them. They turned it back on.
An hour after turning it back on, it went off again.
She had sent one of her relatives to disconnect and take the electric meter. My teaching assistant saw the guy with the meter and took his picture but only got a shot of his back.
People from the English corner that I volunteer my time at and from the school I teach at, started showing up at my home. Finally, at about 9:30 p.m., the guy brought the meter back and reinstalled it (in America, this guy would be in jail for stealing the property of a utility company).
After the electricity came back on, the apartment owner showed up again. I had my lawyer there to deal with her. She gave a proposal in order to get me to give her some money and stay in the apartment.
However, by this time, I knew that I couldn't stay there and be safe.
There were other rumors about her fellow villagers (this community was given to a large group of villagers who had been displaced from their village) that threatened my safety. I don't like problems and I don't need people threatening me in a country that I'm a foreigner in.
She demanded that I give her money or get out. I chose to get out as fast I could. I would lose nearly 25,000.
I'm not rich and can't stand such a loss, but, I couldn't stay in China living under such conditions. So, I found a new place to live that was much cheaper (and smaller).
However, the new owner/landlord here was very understanding of my situation. In fact, he informed me that he knew the lady that I'd dealt with and told me that everyone knows how big a problem she always is for many, many people.
He lowered my rent substantially and asked for only half of the deposit. He gave me very good terms and the apartment is new. It has never been lived in.
Yesterday, as I was moving out, the landlord refused to allow the moving company truck through the gate of the community. She wanted me to give her 2,000 RMB before she would allow the guard to open the gate.
I was willing to give her the money just to get free from her and that community. I was tired of all the craziness (something I've not encountered in my 56 years of living).
More than 30 people from the Binhe Park/Zhengzhou University English corner and nearly a dozen parents of my students, showed up at my home to help me move. I was so humbled that so many would come to support me.
When the owner found out that so many had come to support me, she also showed up. She told several lies during a chaotic verbal riot that ensued between her and the many people from the English corner and students' parents. I thought to myself, "What am I doing in China?" It was the most insane, chaotic situation I've ever experienced.
Finally, the moving truck did get in. However, when they tried to leave, she tried again to make me pay her money or she'd refuse to allow the guard to open the gate. Unbelievable. Finally, the moving truck was blocking the drive and someone threatened to get the police and the news media there. The local television station, ZZTV had already been contacted and wanted to come to cover the story. The guard took the threats seriously and opened the gate.
I saw the best and the worst in Chinese people yesterday. The English corner friends and the parents of my students came, supported me, helped me pack, helped me move and helped me unpack and arrange my home. Almost no one left until my new apartment was completely in order late last night.
Here's the fact. More than 99% of people in China are kind, caring, fair, honest and great to know. There is that small 1% who are not. I've saw both yesterday.
The kindness far outweighs the other side. I'm blessed to know such amazing people. I'm staying in China. I have a deep love for the wonderful people that I know here. I realize that there's such crazy people in every country (though I've never encountered such). But, for every one of them, there are 99 others who are the greatest people on earth.
The author is a star blogger of China Daily blog platform and you can read the original story here: Chinese People: The best and the worst in one day
*

评论内容:

*

验证码: