Multiple stock accounts allowed By Govt
Multiple stock accounts allowed By Govt
发布时间:2015-04-17 07:36
阅读:10次
评论:(0)
Multiple stock accounts allowed
By LI XIANG (China Daily)
Updated: 2015-04-14 09:09
CommentsPrintMailLargeMediumSmall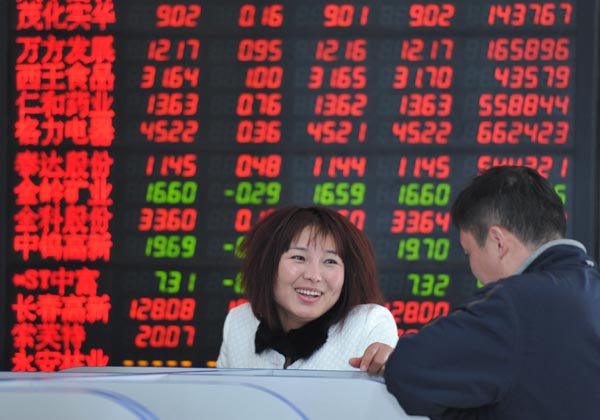 Investors at a securities firm in Fuyang, Anhui province, on Monday. The benchmark ShanghaiComposite Index rose 2.17 percent to close at 4,121.17 points. [Photo/China Daily]
Long bull run on stock exchanges persuades millions of rookie investors to take plunge
Investors in the Chinese mainland are permitted to open multiple stock-trading accounts, as regulators on Monday removed the "one person, one account" restriction amid a dramatic bull run in the equities market.
The benchmark Shanghai Composite Index shot up 2.17 percent to close at 4,121.17 points on Monday, further extending an 80 percent gain over the past six months. The index, which hit a seven-year high, has become the world's best-performing benchmark index.
An individual investor can now open and use up to 20 A-share accounts at different brokerage firms under the unified account platform, which integrates various stock clearing and settlement systems, according to China Securities Depository and Clearing Corp Ltd, a State-owned clearing service company.
The company launched the unified account platform in October. The system allows investors to switch among different brokerages without opening new accounts and closing their existing ones.
Previous regulations had limited each individual to one stock account.
Analysts said that the regulators' move will cut account opening costs for retail investors, who previously had to pay separate account fees for trading stocks or derivatives on the Shanghai and Shenzhen markets.
"It could also spark a war over commission fees among securities firms to attract new clients," said Dong Dengxin, who researches the finance sector at the Wuhan University of Science and Technology.
The mainland stock rally has lured millions of new investors into the market. As of April 3, the total number of active stock accounts stood at 150 million, equivalent to more than 10 percent of the country's population, according to China Securities Depository and Clearing Corp Ltd.
The latest wave of new account openings is said to have been dominated by rookies in their 20s and 30s, causing some analysts to worry about speculation.
On Monday, investors shrugged off concerns about the troubled outlook for the country's foreign trade, after the General Administration of Customs announced that exports contracted 15 percent year-on-year in March.
Market sentiment has seemingly been divorced from the nation's weak economic prospects, with investors apparently convinced that more stimulus measures will be rolled out by the government to support the economy.
Some analysts warned that the new account regulation may create loopholes for some investors to manipulate the market through different accounts.
However, Li Daxiao, chief economist at Yingda Securities Co Ltd, said that the chances of such illegal trading are very slim as the various accounts of an individual investor are registered under the unified account platform, which is closely monitored by regulators.
Buoyant trend on bourses leads options traders to make bets
Hong Kong options traders have never been so bullish on the city's stock market after surging inflows from the Chinese mainland propelled the Hang Seng Index to the biggest rally worldwide last week.
Wagers on gains for the benchmark gauge increased to the most expensive level on record versus bearish ones on Friday as the measure completed a 7.9 percent weekly advance, the most among major equity gauges.
Surging demand for bullish contracts has been a past harbinger of gains.
Call options give holders the right to buy a financial or commodity asset at a fixed price, and investors generally hold such options if they expect prices to rise. Puts allow holders to sell at a fixed price, which would protect them against losses in a falling market.
The surge that sent the Shanghai Composite Index to an 89 percent advance over the past 12 months is spreading to Hong Kong as investors from the mainland use the cross-border exchange link known as Shanghai-Hong Kong Stock Connect to hunt for bargains.
While a technical indicator suggests that Hong Kong shares are now more vulnerable to declines than any other market, dual-listed companies in the city still trade at a discount of about 20 percent versus the mainland.
Matthew Sherwood, head of investment markets research in Sydney at Perpetual Ltd, said: "There's been a lot of hot money flowing out of the mainland, where markets have rallied strongly, into Hong Kong, which had largely missed the rally. Valuations are not expensive relative to the rest of the world."
Last week's rally was the biggest since October 2011, sending the Hang Seng index to a seven-year high. A gauge of mainland companies listed in the city gained 10 percent as investors bet valuations will converge with the mainland.
Options traders have taken note. One-month calls that pay out on a 10 percent rally in the Hang Seng Index cost 3.4 points more than contracts betting on a 10 percent decline.
The difference, known as skew, is the widest since Bloomberg started compiling the data in April 2005. As recently as April 8, it cost more to bet on a decline.
For three-month contracts, calls have become more expensive than puts just five other times since 2005, including January and February this year and December 2014. The Hang Seng Index rallied 4.4 percent in a month when the options market turned bullish in January.
The options skew "is telling you that there's real demand coming into Hong Kong", said Neil Azous, founder of United States-based Rareview Macro LLC, whose firm trades options on a US exchange traded fund tracking Hong Kong-listed shares. "It's Hong Kong's turn to play catch-up. There's just such a frenzy going on."
At least one technical indicator signals the gains may be overdone. The Hang Seng measure's 14-day relative strength index climbed to 86.8 on Friday, the highest since 1993 and the most among major benchmark indexes tracked by Bloomberg. Levels above 70 indicate to some traders that shares are poised to decline.
The Hong Kong exchange had record turnover on Wednesday and Thursday as mainland investors used up their daily 10.5 billion yuan ($1.7 billion) quota through the exchange link. Trading limits for the program will be increased, Hong Kong Exchanges & Clearing Ltd Chief Executive Officer Charles Li said on Friday, without providing a timeframe.
*

评论内容:

*

验证码: