British brands get success in China
British brands get success in China
发布时间:2015-04-23 20:21
阅读:29次
评论:(0)
British brands on road to success in China
By ZHANG CHUNYAN
(China Daily)
Updated: 2015-04-21 10:58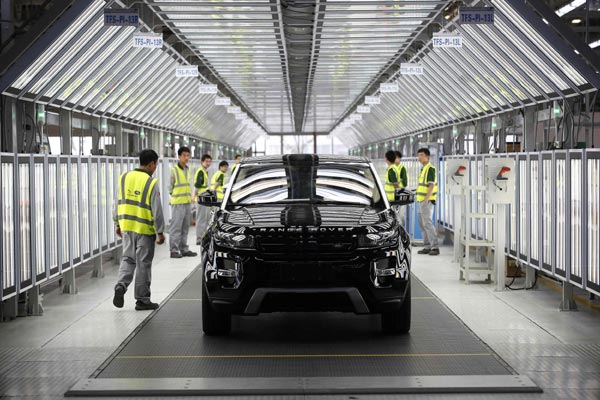 Employees work at the production line inside the Chery Jaguar Land Rover plant in Changshu, Jiangsuprovince. A strong brand heritage and government support have helped British cars win acceptance inChina. [Photo/Agencies]
The fast-growing Chinese market has been one of the important factors boosting the British carsector in recent years. A strong brand heritage and government support have helped British carswin acceptance in China and made the auto industry boom again.
China is the second-largest market for British-built cars, with the domestic market being the largest. Exports of British cars to China have increased seven-fold since 2009, according to theBritish Society of Motor Manufacturers and Traders. As China's economy matures and changes, Chinese consumers' demand for high-qualityvehicles increases.
And a well-known brand heritage has placed the United Kingdom in primeposition to take advantage of the emerging market. German and Japanese car producers have good reputations and solid market shares in China,but the British car industry is succeeding in the region thanks to brand value and positioning.
UK-based car producers boast of a long tradition of engineering excellence and a highly skilledworkforce, and it shows up in the sector's performance. Here are just some of the numbers: Significant investment in brands such as Aston Martin, Bentley, Jaguar Land Rover, McLarenand Rolls-Royce means that 60 percent of all UK-built models offered in China are from premiummanufacturers.
In all, 137,410 UK-built cars were exported to China in 2014. Exports to China exceeded thetotal shipments to Brazil, India and Russia combined. Direct employment in the sector is about 160,000 people, with a total of 770,000 across thewider industry.
The industry's revenue last year was 64 billion pounds ($96 billion). The UK surpasses France in terms of vehicle output, and it is in third place after Germany andSpain in Europe.
Also important is that the UK government is very supportive of car manufacturers. Since 2009, asa result of the global downturn, the UK government has accepted that the country cannot just relyon financial services to drive the economy.
It must also support manufacturing, including life sciences and motor vehicles. And it has soughtto promote investment in the vehicle sector and encouraged young people to go into engineering. Foreign investors have put money into the UK vehicle industry, rescuing some companies in theprocess.
For example, Shanghai Automotive Investment Co took over British brand MG Rover after it wentbankrupt in 2005. Its newest sport-utility vehicle is expected to go on sale in China soon. In 2008, India-based Tata Motors paid Ford 1.3 billion pounds for Jaguar Land Rover.
Zhejiang Geely Holding Group Co Ltd bought the iconic London Taxi Co in 2013 after itcollapsed into administration. Geely has announced that it will invest 250 million pounds to builda new facility for the taxi in Coventry. A potent combination of expanding markets, strong brand reputations, government support andinfusions of investment are enabling the UK vehicle sector to reboot and make a significantcontribution to the economy.
*

评论内容:

*

验证码: