China's debt has just turned a corner
China's debt has just turned a corner
发布时间:2015-04-23 20:35
阅读:31次
评论:(0)
Nation's debt has just turned a corner
By David Mann (China Daily Europe)
Updated: 2015-04-12 14:38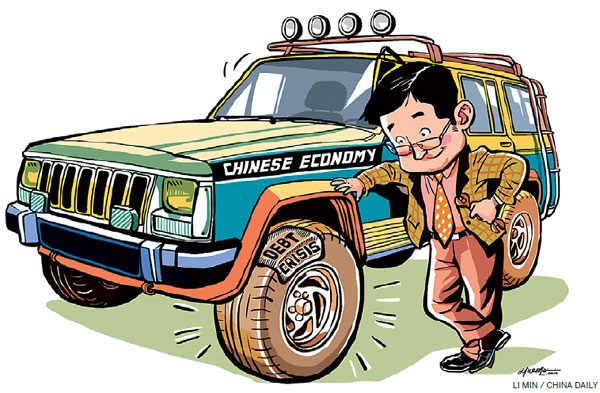 Credit is growing in line with GDP, which means more benefit for every new unit of borrowing
There are fears about China's growth prospects given the recent bad news about weak creditdemand, high real interest rates and tight liquidity.
But we at Standard Chartered see threereasons for at least some optimism: First, China's debt-to-GDP ratio stabilized in mid-2014, albeit at a relatively high 251 percent ofGDP.
While China's dramatic debt increase in the past five years grabbed headlines worldwide,as the ratio leapt nearly 100 percentage points from 155 percent of GDP, the fact that the ratiohas begun to stabilize has not received much attention. This is an important milestone in China's debt turnaround following years of excess.
Over thepast five years, total credit growth in China was on average 8 percentage points faster thannominal GDP growth - way beyond the point at which credit growth becomes inefficient for anyeconomy. However, since mid-2014, China's credit has been growing in line with GDP.
Essentially, thismeans China is now getting more "bang for its buck" for every new unit of borrowing.
Also,attitudes toward debt have changed, with loan officials in China now much more averse to takingthe risk of a loan going bad. Although this doesn't mean China's leverage risks have been resolved, because the excessivedebt accumulation of prior years still needs to be dealt with, it does mean that debt challengesare no longer escalating. And this is good news.
Resuming past excesses is not an option.
China's debt-to-GDP ratio is still relatively highcompared with other economies at a similar stage of development, so debt cannot be used toboost growth significantly in the near future without risking even more solvency issues later.
Besides, since the official non-performing loan ratio is set to keep rising through 2015 andbeyond, most likely not all of the bad debts will be recognized immediately, which comes withboth benefits and potential costs.
We will need to watch carefully whether this "evergreening" of bad loans becomes too large ashare of new credit growth. Importantly, this does not appear to be the case so far. The second reason to be a bit more upbeat about China is the sign of positive sentiment amongproperty developers.
Results of our recent property market survey of 30 companies in five majorcities across China - which we have been running twice a year since 2010 - indicate that theindustry will be in better shape by the second half of this year, which bodes well for China'sgrowth. Developers believe the excessive amount of inventory in lower-tier cities will be worked throughby the second half of this year.
They also anticipate better appetite for investment in land amongtheir peers before the end of this year. This is good news, too, given the drag on GDP growthfrom the sector recently. Finally, our survey of more than 600 small and medium-sized enterprises across China showed aslight improvement in sentiment in January from a low in December.
The results indicate that thisoptimism is being supported by broad-based policy easing in the country.
And, as we expect tosee more monetary easing in the form of at least two more reserve requirement ratio cuts and afurther lowering of policy rates, business confidence could continue to improve. While we all should be getting used to China's "new normal" of slower growth, we should not beworried about the slowdown deepening even further in 2015 and 2016.
There are many reasons to be less bearish on China than the present consensus,
and the factthat there is no unsustainable credit boom,
taking off again in China, or anywhere else in theworld's major economies, should be a source of relief.
*

评论内容:

*

验证码: