Soccer big names will play in China this summer
Soccer big names will play in China this summer
发布时间:2015-04-24 20:36
阅读:41次
评论:(0)
Soccer big names to play in China this summer
By Sun Xiaochen
(chinadaily.com.cn)
Updated: 2015-04-23 16:49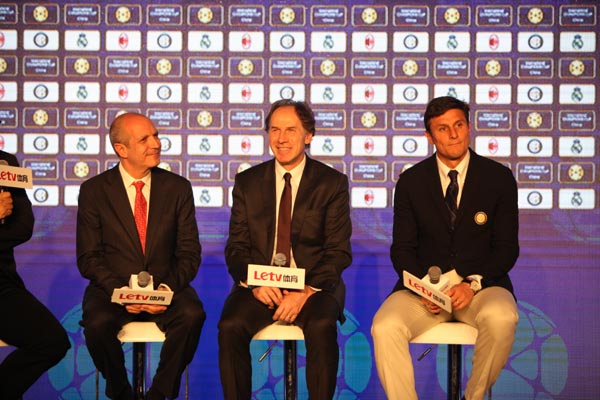 (From left to right) Luis Fernandez, an executive from Real Madrid's Beijing office, retired AC Milan legend Franco Baresi and Javier Zanetti, retired former Internazionale Milano captain, answer questions at the press conference to launch the inaugural International Champions Cup China in Beijing on Wednesday. [Photo provided to chinadaily.com.cn]
Chinese soccer fans had better clear their schedules for this summer as a big wave of glittering soccer stars is coming.
The International Champions Cup, a high-profile preseason exhibition tournament featuring star-studded lineups, will come to China for the first time with three prestigious European clubs, Real Madrid, AC Milan and Internazionale Milano, facing off in a round-robin format of the Cup's inaugural China leg in July, organizers announced in Beijing on Wednesday.
Initiated by RSE Ventures and Relevent Sports in 2013 in the United States, the tournament organizers saw a great opportunity to reach out to the Chinese market after a master plan was issued earlier this year by President Xi Jinping to boost soccer development from the grassroots to elite professional levels in China.
"Football is becoming an even more important sport in China, and of course we are very happy about this. We believe China has lots of potential of performing at the highest level in the world. Our view is that as the ICC grows in China, we should engage the grassroots as part of our promotion," Patrick Murphy, a representative of Relevent Sports, said at the launching ceremony on Wednesday.
The China tournament is headlined by Real Madrid, which won the UEFA Champions League in the 2013-14 season for a record 10th time and boasts an array of stars including Cristiano Ronaldo, the back-to-back FIFA Ballon d'Or winner, Gareth Bale, Sergio Ramos and Iker Casillas.
Seven-time Champions League winner AC Milan and three-time Champions League winner Internazionale Milano, will bring the anticipated cross-city Milan derby to China again after the two sides competed head-to-head for the first time in China at the 2011 Supercoppa in Beijing.
Co-organized by local companies Letv Sports and Guangzhou South Activity Planning Co Ltd, the China leg will first see AC Milan playing against Internazionale Milano at Shenzhen's Longgang Stadium on July 25, and then the Internazionale Milano squaring off against Real Madrid at Tianhe Stadium in Guangzhou on July 27 before a final matchup of Real Madrid facing the AC Milan at Shanghai Stadium either on July 29 or 30 (date subject to agreement between two teams).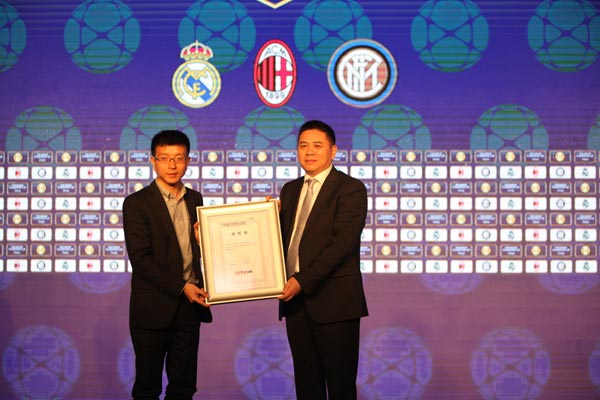 Lei Zhenjian, CEO of Letv Sports (left), and Fei Shusheng, chairman of Guangzhou South Activity Planning Co Ltd, show the authorization certificate, which certifies the Guangzhou company as the tournament's branding and marketing partner in Beijing on Wednesday. [Photo provided to chinadaily.com.cn]
Lei Zhenjian, CEO of Letv Sports, says bringing the prestigious tournament to China marks an expansion into a new field for the Internet and technology company.
"ICC China marks Letv Sports' expansion into sporting events operations and promotion. The move demonstrates our commitment to developing the Letv Sports ecosystem by not only providing unique and innovative content via PC, mobile devices and smart TV, but also bringing world class sporting events to Chinese sports fans."
Letv Sports will deliver live broadcasting of all three matches and off-court promotion activities on its streaming website and mobile apps.
Luis Fernandez, an executive from Real Madrid's Beijing office, retired AC Milan legend Franco Baresi and Javier Zanetti, retired former Internazionale Milano captain also attended the launching ceremony in Beijing on Wednesday.
"We will take this tournament as a great opportunity to give back the support from Chinese fans with a series of fan-engaging activities and opportunities to interact with the stars up close," Fernandez said through translator.
Fernandez pledged that the Spanish league giant will send its full roster including all the stars to play serious games in China.
*

评论内容:

*

验证码: