Laureus exceptional award winner named by Li Na
Laureus exceptional award winner named by Li Na
发布时间:2015-04-24 21:40
阅读:26次
评论:(0)
Li Na named Laureus exceptional award winner
(Xinhua)
Updated: 2015-04-15 20:58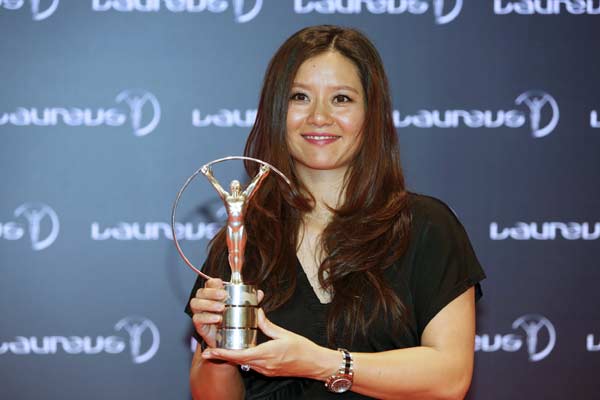 Former tennis player Li Na poses for photographs with her award at the 2015 Laureus World Sports Awards, in Shanghai April 15, 2015. [Photo/Agencies]
SHANGHAI, April 15 - Chinese retired tennis star Li Na won the Exceptional Achievement award instead of the Sportswoman of the Year in a six-person competition, for her contribution to the promotion of the sport in China, at the 16th Laureus World Sports Awards here on Wednesday.
"It's a recognition from premier world sports awards. For me, it's a fortune to choose tennis," said Li, who collected her second Grand Slam title in Australian Open in 2014.
However, Li, along with her arch rival Serena Williams of the United States, did not put their hands on the trophy, and the honor went to Ethiopian track and field star Genzebe Dibaba.
On February 1 in Karlsruhe, Dibaba broke the 1,500m indoor record, five days later it was the 3,000m in Stockholm. On February 15 in Birmingham, she broke the two-mile record, joining Jesse Owens of the United States and Usain Bolt of Jamaica as the only athletes to break world records in three different events in just half a month.
"I was not aware of this award (Exceptional Achievement) before, so all of my attention was put on Sportswoman of the Year," Li said.
"I wonder if I had a chance to beat Serena in this year's ceremony, especially when it's held in Shanghai," she added.
However, the former Chinese tennis ace felt honored enough to be a nominee for this award, due to the fact that "there are so many excellent athletes and only six of them can become the nominees at last."
China's another prominent sports figure Yao Ming was awarded Spirit of Sport, based on his contributuion to social welfare. The 2.26m Shanghai local celebrated his glory at the ceremony, becoming a newcomer to Laureus World Sports Academy.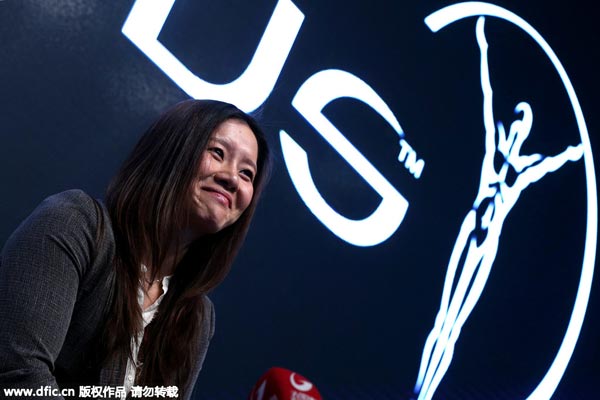 Li Nareacts during a Laureus interview event at the Shanghai Grand Theater in Shanghai, April 14, 2015. The Laureus Award ceremony will be held in Shanghai on Wednesday night. [Photo/IC]
Novak Djokovic of Serbia, currently ATP world No. 1, was honored Sportsman of the Year, uppering other five nominees: Lewis Hamilton (Britain), Renaud Lavillenie (France), Rory McIlroy (Britain), Marc Marquez (Spain) and Cristiano Ronaldo (Portugal).
"It's the most prestigious sports award without a doubt, because of the fact that it's a recognition and respect that you get from being selected as a top athlete from the members of the Sports Academy of Laureus," Djokovic tole Laureus.com.
Djokovic won the Wimbledon for the second time in 2014, defeating Roger Federer of Switzerland in the final in five sets, and it was his seventh career Grand Slam title, which enabled him to return to No. 1 for first time since week of September 30, 2013.
After winning ATP World Tour Finals, Djokovic clinched his fourth season-ending crown, also becoming the first player since Ivan Lendl (1985-1987) to win 3 year-end titles in a row.
German football team got the Team of the Year for their success in FIFA World Cup in Brazil. After winning over Argentina 1-0 through overtime in the final, they became the first European team to win the most prestigious honor of FIFA in South America.
Australian motor racer Daniel Rhicciardo won the Breakthrough of the Year award, while the Comeback of the Year award belonged to South African rugby player Schalk Burger, who survived life-threatening bacterial meningitis to Springboks team.
American Tatyana McFadden won the Sportsperson of the Year with a Disability award. As a wheelchair racer, she won Boston, Chicago, London and New York marathons. She is also a Winter Paralympic champion.
The Action Sportsperson of the Year was given to skydiver Alan Eustace, who jumped 135,889 feet to break Felix Baumgartner's 2012 free fall world record.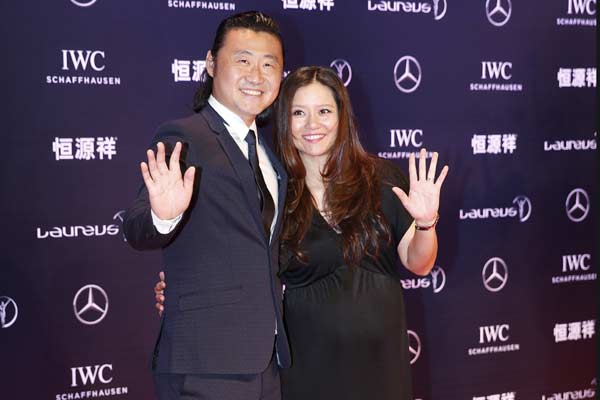 Former tennis player Li Na poses with her husband Jiang Shan on the red carpet as they arrive for the Laureus World Sports Awards in Shanghai April 15, 2015. [Photo/Agencies]
*

评论内容:

*

验证码: