Williams wife,children go to court in estate fight
Williams wife,children go to court in estate fight
发布时间:2015-04-25 08:37
阅读:12次
评论:(0)
Williams' wife,
children head to court in estate fight
( Agencies )
Updated: 2015-03-31 09:16:47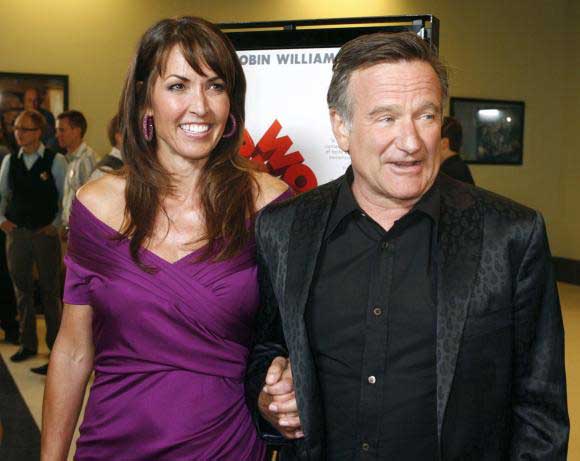 File photo of actor Robin Williams and wife Susan Schneider (L) taken on August 13, 2009.[Photo/Agencies]
Attorneys for Robin Williams' wife and children are headed to court in their battle over the latecomedian's estate.
The attorneys are scheduled to appear before a San Francisco probate judge on Monday, asthey argue over who should get clothes and other personal items the actor kept at one of hisNorthern California homes.
In papers filed in December, Williams' wife, Susan, says some of the late actor's personal itemswere taken without her permission.
She has asked the court to exclude the contents of the San Francisco Bay Area home sheshared with Williams from the jewelry, memorabilia and other items Williams said the childrenshould have.
Williams' children, Zachary, Zelda and Cody, said in response that Susan Williams is "addinginsult to a terrible injury" by trying to change the trust agreement and rob them of the late actor'sbelongings.
Susan Williams' attorney said she was only seeking guidance from the court about the meaningof certain terms in the trust.
Williams died at his home in Tiburon north of San Francisco in August. The coroner ruled hisdeath a suicide that resulted from asphyxia caused by hanging.
Susan Williams has said the actor and comedian was struggling with depression, anxiety and arecent diagnosis of Parkinson's disease.
Williams' trust granted his children his memorabilia and awards in the entertainment industryamong other particular personal items, according to court documents.
Susan Williams says that because he wanted her to continue to live at the Tiburon home, itmakes sense that he intended only for his children to have the specific personal items hedelineated that were kept at another home he owned in Napa.
The two sides also disagree over items put in storage, watches Williams owned and hismemorabilia.
*

评论内容:

*

验证码: