TaylorSwift selects one of World's Greatest Leader
TaylorSwift selects one of World's Greatest Leader
发布时间:2015-04-25 08:48
阅读:30次
评论:(0)
Taylor Swift named one of 'World's Greatest Leaders'
( CRIENGLISH.com )
Updated: 2015-03-30 10:28:32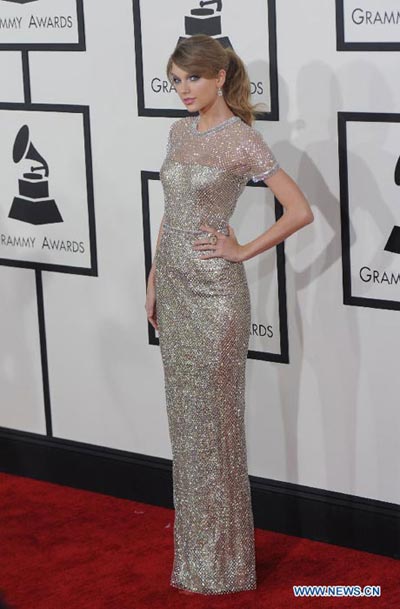 Taylor Swift arrives on the red carpet for the 56th Grammy Awards atthe Staples Center in Los Angeles on Jan 26, 2014. [Photo/Xinhua]
US pop star Taylor Swift has landed a spot among powerful businessmen and politicians in a pollof the World's Greatest Leaders.
The 'Shake It Off' hitmaker, is the highest-placed woman on the 2015 list conducted by newFortune.com.
It ranks the "extraordinary" people who are "transforming business, government, philanthropy,and so much more."
Swift comes in sixth behind Apple CEO Tim Cook at number one, European Central Bank chiefMario Draghi at two and Chinese President Xi Jinping at the third place.
In a related article, editors heap praise on the singer, who is ranked two spots behind PopeFrancis, writing, "Pop's savviest star has crossed swords with Spotify, embraced corporatesponsorship, and moved to secure dozens of trademarks."
Swift took a stand against popular music programme Spotify in November, removing all hertracks from the site without prior notice, just days after the release of her latest album '1989.'
*

评论内容:

*

验证码: