Cancer experts praise Angelina Jolie's decision
Cancer experts praise Angelina Jolie's decision
发布时间:2015-04-25 09:23
阅读:29次
评论:(0)
Cancer experts laud Angelina Jolie's decision to remove ovaries
( Agencies )
Updated: 2015-03-25 09:03:20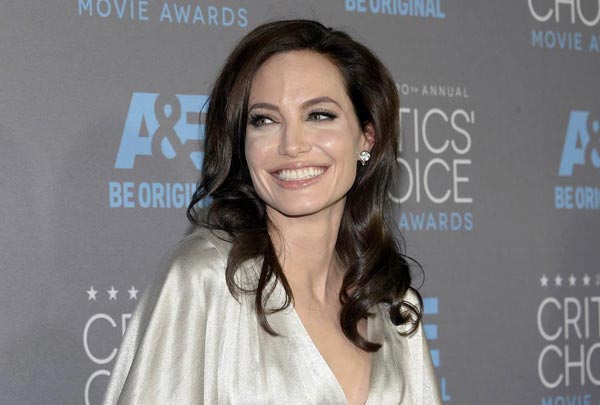 "Unbroken" director Angelina Jolie arrives at the 20th Annual Critics' Choice Movie Awards in LosAngeles, California January 15, 2015. [Photo/Agencies]
Two years after a double mastectomy, actress Angelina Jolie has had her ovaries and fallopiantubes removed to avoid the risk of ovarian cancer, a move cancer experts described ascourageous and influential.
The movie director and philanthropist, who is the wife of actor Brad Pitt and the mother of sixchildren, said in an op-ed column in the New York Times on March 24 that she had the surgerylast week after blood tests showed what could have been early signs of the disease.
Jolie, 39, carries a mutation in the BRCA1 gene that increases her risk for breast and ovariancancer. Her mother died of ovarian cancer at the age of 56.
Cancer specialists praised the Hollywood star's second public revelation for increasingawareness about genetic testing and prophylactic surgery to reduce the risk of breast andovarian cancer.
"My hat is off to her," said Dr. Robert DeBernardo, a gynecologic oncologist at the ClevelandClinic's Ob/Gyn & Women's Health Institute. "She is doing a lot of good for women worldwide byraising awareness of BRCA testing and options women have."
"It was incredibly courageous," said Dr. Marleen Meyers, an assistant professor of medicine atNYU Langone's Laura and Isaac Perlmutter Cancer Center.
Jolie said she went public with her decision so women would know about options available tothem.
"I went through what I imagine thousands of other women have felt," Jolie wrote. "I told myself tostay calm, to be strong, and that I had no reason to think I wouldn't live to see my children grow upand to meet my grandchildren."
The surgery showed no signs of cancer, she said, but it triggered early menopause, and she willnot be able to have more children.
"I feel feminine, and grounded in the choices I am making for myself and my family," said Jolie,who travels the globe as a United Nations ambassador for refugees. "I know my children willnever have to say, 'Mom died of ovarian cancer.'"
The Academy Award winning actress, who most recently directed the World War Two drama"Unbroken," said she had a progesterone IUD inserted in her uterus to help maintain hormonalbalance and help prevent uterine cancer.
Research showed that her 2013 decision to have a double mastectomy to cut her risk of breastcancer increased demand for genetic testing in what was dubbed the "Angelina Effect."
*

评论内容:

*

验证码: