Chinese actress Huang Shengyi at the Oscars
Chinese actress Huang Shengyi at the Oscars
发布时间:2015-04-25 09:44
阅读:30次
评论:(0)
Chinese actress at the Oscars: With a purpose or just for fun?
( chinadaily.com.cn )
Updated: 2015-02-27 14:07:25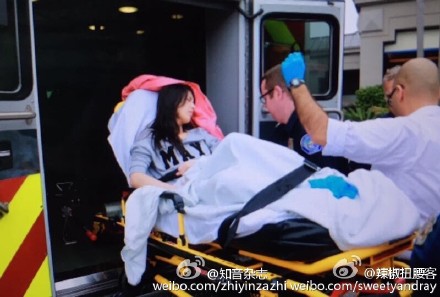 Chinese actress Huang Shengyi fainted while preparing for the 87thAcademy Awards and was rushed to a local hospital for emergency medicaltreatment. [Photo/Sina Weibo]
Chinese actress Huang Shengyi was scheduled to walk the red carpet alongside actor TomHanks during the 87th Academy Awards on Feb 18.
Unfortunately, she reportedly fainted while putting her makeup on before the show and wasrushed to a local hospital for emergency medical treatment.
Huang was not a presenter nor was she a nominee, and none of the films she was part of thisyear were nominated for anything either. But, she was supposed to appear on the red carpet atthe biggest night in cinema.
There are many others like Huang, who attend international film festivals or award ceremonieswithout any notable works that year, seemingly for the sole purpose of gaining internationalmedia exposure.
Here we present a few Chinese actresses who attended Oscars in the past with a purpose, andthose who walked on the red carpet just for striking some awesome poses.
*

评论内容:

*

验证码: