Chiung Yao criticizes copycat writer
Chiung Yao criticizes copycat writer
发布时间:2015-04-25 09:59
阅读:5次
评论:(0)
Chiung Yao slams copycat writer
( chinadaily.com.cn )
Updated: 2014-04-16 15:56:51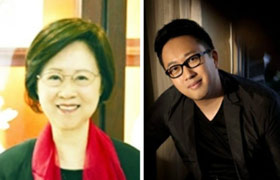 Chiung Yao (L) and Yu Zheng. [Photo/Agencies]
Taiwan novelist and screenwriter Chiung Yao claims historicaltelevision series Palace 3: The Lost Daughter, written andproduced by screenwriter Yu Zheng from Chinese mainland,plagiarizes one of her works, and has demanded provincial TVstation Hunan Television pull it off-air.
She provided evidence of copyright infringement in a letter toChina's State Administration of Press, Publication, Radio, Filmand Television, the top regulator of China's TV and film industry.
The authorities have yet responded to Chiung's requests.
0
*

评论内容:

*

验证码: