Chinese words increase in English dictionary
Chinese words increase in English dictionary
发布时间:2015-04-30 19:52
阅读:32次
评论:(0)
Report: Chinese words surge in English dictionary
By He Keyao ( chinadaily.com.cn )
Updated: 2015-04-30 15:03:59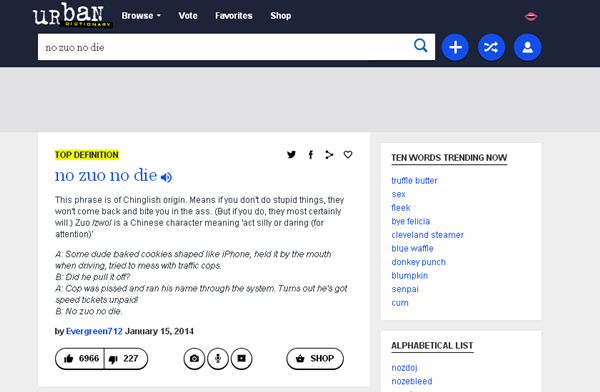 A screen shot of the Urban Dictionary's explanation of Chinese borrowed word "no zuo no die".[Photo/chinadaily.com.cn]
An official report released on Wednesday shows that the number of Chinese words in Englishdictionary has rocketed in the past 20 years and the internationalization of Chinese language hasbecome a new cultural trend.
According to the Cultural Construction Blue Paper- China's Culture Development Report(2014), published by Hubei University and Social Sciences Academic Press (China), the use ofChinese words in foreign languages is growing at a fast rate.
Chinese Internet buzzwords, such as "no zuo no die" (which translates into English as "if you don'tdo stupid things, they won't come back and bite you in the back"), "you can you up, no can noBB" (which rougly translates into English as "if you can do it you should go up and do it, insteadof criticizing others' work") have already been incorporated into the American Urban Dictionary,creating a big splash on the Internet last year.
Other words like "Tuhao" (meaning rich rednecks) and "Dama" (referring to elderly women) arelikely to be included in the Oxford Dictionary in the coming days, drawing global attention.
The report said that the increasing use of Chinese is a sign of the country's national power andInternational status.
Base on initial statistics, there are more than 3,000 colleges and universities in over 100countries that teach Chinese language.

In Korea, around 100 institutions offer Chinese courses and over 1,000,000 students are learningit; while in Japan, the number of people learning Chinese has reached 2,000,000. In the USalone, up to 3,000 high schools are offering Chinese courses.
Marie Tulloch, 24, a postgraduate student of Foreign Trade University from the UK, said it it'spossible that Mandarin words would be used in English in everyday life in the future.
"English already has some Cantonese words. Like the pan we use for cooking, we call it 'wok',which comes from Cantonese," she said, "maybe it is just a matter of time before we useMandarin."
Judith Huang, 29, from Singapore, said that borrowing words from other languages is a way tokeep culture alive.
"Language is alive so there will naturally be borrowing from one language to another especiallyas more people become bilingual," She said.
Meanwhile, the document also said that the "Chinese fever" is not as hot as previously reported.The total number of those learning Chinese as a second language is still below 150 millionworldwide, lagging behind popular choices such as French, Spanish and Japanese.
The blue paper added that those borrowed Chinese words, with their corresponding social andcultural background, would help the western world get a deeper understanding of China.However, it is still too early to see their impact on the mainstream English language.
*

评论内容:

*

验证码: