Alipay meets temporary breakdown
Alipay meets temporary breakdown
发布时间:2015-05-28 17:05
阅读:57次
评论:(0)
Alipay suffers temporary breakdown
(chinadaily.com.cn)
Updated: 2015-05-28 15:34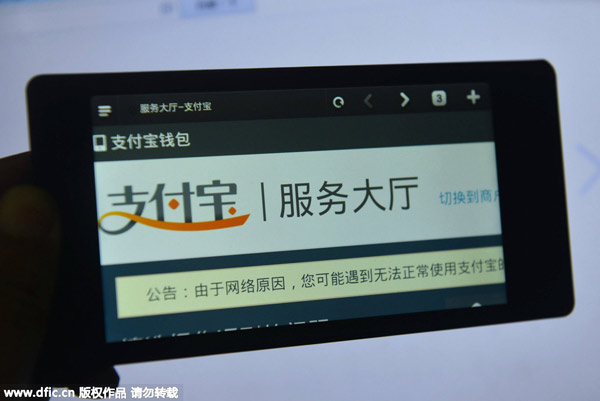 The display screen of a cellphone shows that Alipay is temporarily inaccessible in Hangzhou city,capital of East China's Zhejiang province, May 27, 2015. [Photo/IC]
Alibaba Group Holding Ltd's financial affiliate announced on Wednesday night its mobilepayment platform Alipay had resumed services after a temporary breakdown due to optical fiberproblems.
Zhejiang Ant Small and Micro Financial Services Group Co Ltd, owner of Alipay, said thebreakdown was caused by a construction project that cut part of optical fiber lines in Hangzhou,Zhejiang province where one of its major computer center is based.
At 5 pm on Wednesday, users in Beijing, Zhejiang and other cities reported problems in usingAlipay. They could't log in to the mobile payment platform, transfer money or pay bills.
The company said Alipay is well-equipped to ensure the security of money stored in users'accounts. As the largest mobile payment service provider in China, Alipay boasts 270 millionactive users.
Cheng Li, chief technology operator of Alipay, said after the incident the company had movedquickly to divert traffic to computer bases in other cities and the service had been resumed in twohours.
Technology experts said the broken optical fiber hadn't been repaired yet but they are trying tominimize the negative impact of the incident.
This is not the first time that Chinese Internet companies have suffered from optical fiber cablefailures. Last October, Wechat, the most popular instant messaging services offered by TencentHoldings Ltd, also experienced similar problems. Some users were unable to access Wechatbecause of problems in its Shanghai-based computer center.
*

评论内容:

*

验证码: