MERS news: HK quarantines 18 people
MERS news: HK quarantines 18 people
发布时间:2015-06-01 00:49
阅读:7次
评论:(0)
HK quarantines 18 close contacts of MERS patient
(Xinhua)
Updated: 2015-05-31 13:46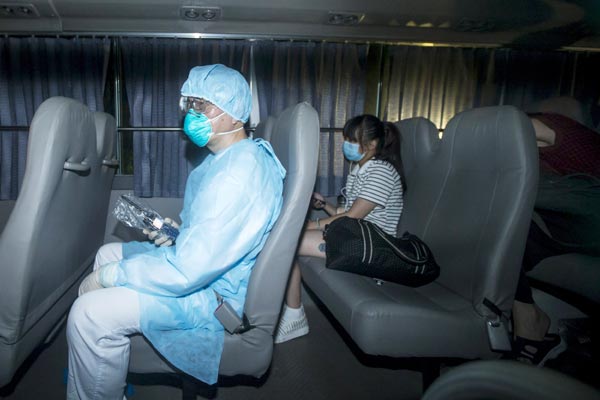 A health worker with protective suits sitting with people (R) who came into close contact with the Korean Mers patient arrive at Lady MacLehose Holiday Village in Sai Kung, where they will spend two weeks in quarantine in Hong Kong, May 30, 2015. [Photo/Agencies]
HONG KONG - Eighteen people having close contact with a South Korean man infected with the Middle East Respiratory Syndrome (MERS) have been sent to a quarantine camp, including two South Korean women who had earlier refused to be quarantined, Hong Kong Special Administrative Region government has said.
With the city on high alert over Middle East Respiratory Syndrome (MERS) on Saturday, the two Korean women among 18 plane passengers who sat close to the MERS patient have been tracked down in the Causeway Bay shopping district and quarantined, according to the HKSAR government news website on Saturday.
Secretary for Food and Health of HKSAR government Ko Wing-man said, with the assistance from the diplomatic personnel of South Korea in Hong Kong, the two women finally accepted to be quarantined.
"This is very important because once they are in the quarantine camp, our medical personnel from the Center for Health Protection will be able to chip in and conduct medical assessment," Ko said.
Hong Kong's health authorities have made plans for the 18 plane passengers to be quarantined for two weeks at the Lady MacLehose Holiday Village in Sai Kung.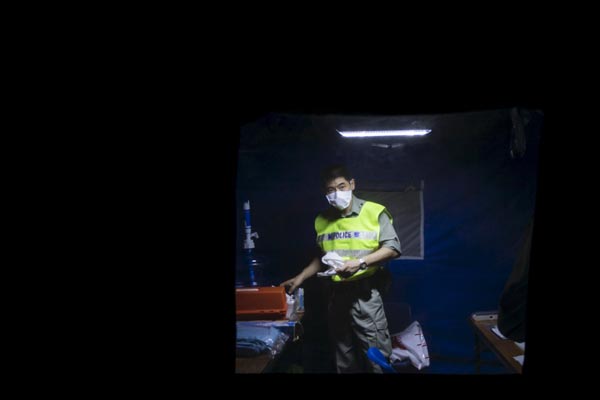 A police with mask stands guard outside Lady MacLehose Holiday Village in Sai Kung, where people who came into close contact with the South Korean MERS patient will spend two weeks in quarantine in Hong Kong, May 29, 2015. [Photo/Agencies]
The 44-year-old South Korean MERS patient flew from Seoul to Hong Kong on Tuesday before heading to the China's mainland by bus. He is thought to have contracted the deadly virus from his father and brother, and traveled against the advice of doctors.
He has got fever but is in stable condition, according to the commission.
He was confirmed as China's first imported MERS case, is currently being held in isolation at a hospital in Huizhou in China's southern province of Guangdong.
MERS was first identified in humans in 2012. The virus is similar to that which causes Severe Acute Respiratory Syndrome, or SARS.
The World Health Organization has reported more than 1,000 cases of MERS globally and more than 400 deaths.
Related:
15 South Koreans infected with MERS disease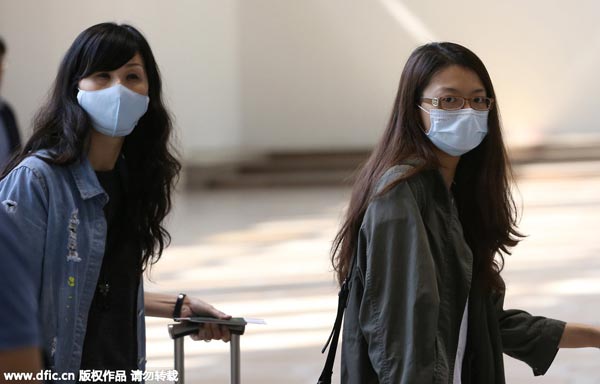 Two passengers wearing masks wait to go through the checks at the Gimpo International Airport in Seoul, South Korea, May 28, 2015. [Photo/IC]
The number of South Koreans infected with Middle East Respiratory Syndrome (MERS) has risen to 15 after two new cases were detected, the health ministry said Sunday.
Two people in their 30s, who had close contact with the patient zero, were confirmed positive for the deadly viral disease, according to the Ministry of Health and Welfare.
The 14th case was a 35-year-old patient who had been hospitalized at the same ward with the patient zero, and the 15th case was a 35-year-old person who visited her mother being admitted to the same hospital ward with the patient zero.
The 13th case was tested positive on Saturday as the 49-year-old man nursed his wife, the 12th infectee who had been hospitalized at the same ward with the patient zero.
*

评论内容:

*

验证码: