ship sink news:2000 rescuers work day and night
ship sink news:2000 rescuers work day and night
发布时间:2015-06-04 09:51
阅读:22次
评论:(0)
2000 rescuers work around the around as death toll reaches 65
Rescue workers cut open ship's hull
By ZHAO HUANXIN and ZHAO YINAN in Jianli, Hubei, and WANG XIAODONG in Beijing (China Daily)Updated: 2015-06-04 03:54
Latest:
By 8:00 am Thursday, 65 bodies have been recovered, 14 found alive, CCTV News reported. Between 21:00 Wednesday and 8:00 am Thursday, 39 more bodies were retrieved.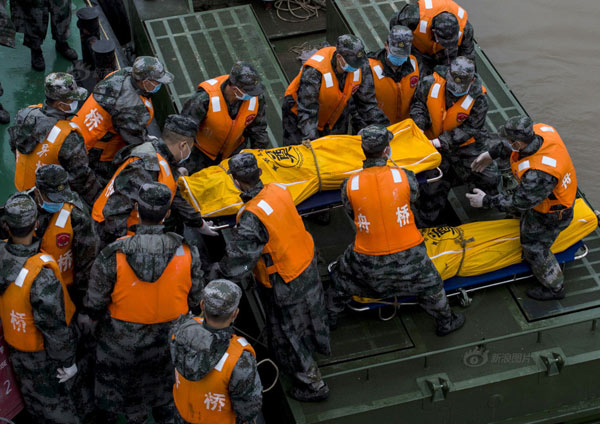 Rescuers recovered two bodies on June 3. [Photo/Xinhua]
Only 14 of 456 people on board found alive by Wednesday night
No more survivors of the capsizing of a cruise ship on the Yangtze River were found on Wednesday despite an intense search involving more than 2,000 rescuers and over 100 vessels.
Only 14 of the 456 people on board the Eastern Star when it overturned during a storm on Monday have been found alive, according to authorities in Jianli county, Hubei province, where the accident occurred.
Rescuers cut open the hull on Wednesday night so divers could go inside the ship to search for the 416 people unaccounted for.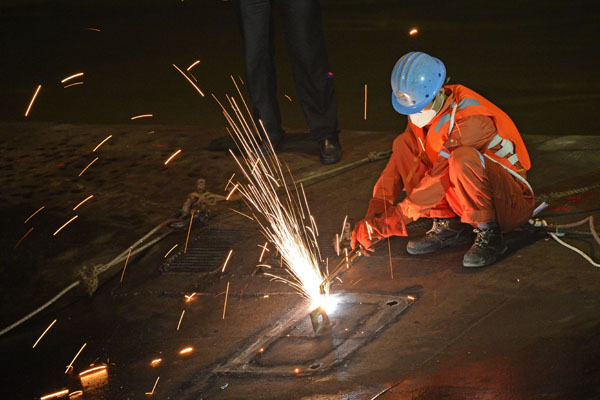 With the hope of finding more survivors, a rescue worker starts to cut a hole in the bottom of the capsized Eastern Star in the Jianli section of the Yangtze River in Hubei province on Wednesday.[Photo by LI XI / HUBEI DAILY]
Twenty-nine bodies had been recovered as of early Thursday, but the death toll was expected to rise dramatically.
More than 2,000 rescuers, including 202 divers, and 131 ships and boats are participating in the rescue, the Ministry of Transport said.
Three salvage ships were preparing to get the Eastern Star out of the 15meterdeep water, the ministry said.
The search efforts were to continue through the night, said Xu Chengguang, a spokesman for the ministry. Rescuers have expanded their search for survivors to 220 kilometers downstream.
The water near the ship is murky, impeding the rescue effort, Xu said.
When the ship capsized, objects inside were tossed about and could now block passages, complicating the underwater rescue, he said.
The Eastern Star capsized near Jianli in Central China's Hubei province at 9:28 pm on Monday.
The sightseeing ship was headed from Nanjing in eastern China to Chongqing when it encountered a heavy storm. It turned upside down almost instantly, according to the ship's captain and chief engineer, who have been detained by police for investigation.
The China Meteorological Administration confirmed on Tuesday that there had been a tornado in the area at the time of the accident with wind speeds exceeding 115 km/h.
Premier Li Keqiang urged an all-out rescue effort on Wednesday when he visited rescuers at the site. He also paid tribute to several dead passengers.
"As long as there is the slightest hope, we must go all-out to find the missing. It's our obligation," he said.
Li and other senior officials called for government departments on Tuesday to mobilize all necessary resources and provide maximum support for the rescue. He also demanded a thorough investigation.
One of the few survivors is 43-year-old tour agency employee Zhang Hui, who managed to escape with a life jacket as the ship was flipping over.
Zhu Hongmei, a 65-year-old woman who was trapped in an air pocket under the hull, was rescued on Tuesday after she was found by a diver who guided her out.
As thousands of rescuers, reporters and relatives of ship passengers flock to Jianli, the county of about 1.6 million people is facing mounting pressure on accommodations and traffic.
Chen Liang, who runs the Qianxi Hotel, offered 20 of the facility's 30 rooms for free to relatives and friends of the passengers trapped in the ship. The other 10 rooms are reserved for search and rescue workers, he said.
"I don't have more room to offer," Chen said. "But my hotel can provide free meals to anyone who can show themselves to be a rescuer or a relative of a passenger."
The Qianxi hotel provided at least 200 boxed lunches to rescuers onWednesday.
At least 150 taxis and private cars were offering them free rides. Yellow ribbons were tied onto the vehicles — a sign of a volunteer that appeared during the disastrous Wenchuan earthquake in Sichuan province in 2008.
*

评论内容:

*

验证码: