They say everything changes once you become a dad
They say everything changes once you become a dad
发布时间:2015-06-20 13:56
阅读:38次
评论:(0)
They say everything changes once you become a father...
By Mark Munro (chinadaily.com.cn)
Updated: 2015-06-20 10:18
I still remember when I first found out that I was going to be a dad. The year was 2011 and my wife and I were living in a one-bedroom apartment in London, Ontario, Canada. I was finishing my master's degree and working part-time in a factory, and she was in a 9-5 job selling cosmetics at a local shopping mall. After another tiring day trying to make ends meet in Canada, I arrived home to see a home pregnancy test with the strip blue on it.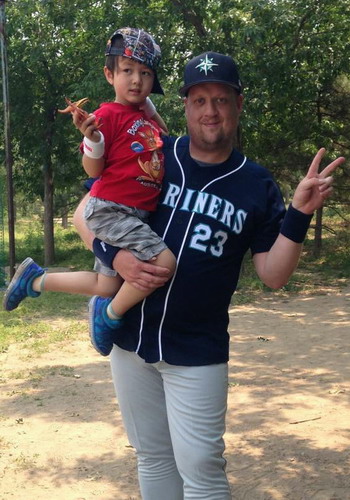 The author and his son.[Photo provided to chinadaily.com.cn]
Frustrated with my life in Canada and trying to be "successful" after two years living there, I asked my wife, "What is this?" She replied, "What do you think it is?" That was March of 2011. After pondering over our future together and our life in Canada, I realized that we were both happier in China, the country we met, fell in love in, and forged a relationship together, so instead of trying to survive the Canadian system, I started searching for teaching jobs back in China. The country we were happiest in originally.
After finding what both she and I deemed to be a good job, I accepted, and we were both on a plane (she was six-month month pregnant by then) back to Beijing to start our life and family. We were living on a prayer (excuse the Bon Jovi reference). In hindsight, it turned out to be the right decision, because the job turned out to be the same one I'm currently working at in Beijing and have been promoted to senior English teacher of the international department.
With that said, our moving back to China with her being pregnant was scary and gutsy. We had not decided on any hospital or made any real plan, aside from her family connections. I started teaching in September of 2011, and in November, she gave birth to our first son, Miles. November, 27, to be exact.The same day two of my idols - Bruce Lee and Jimi Hendrix - were born.
Now I come from a pretty independent family, and one in which my father instilled in both my sister and I the value of work effect and being independent in the world. While he could have easily coddled me at this difficult time in my, he did not - he challenged me.
My own family aside, my next biggest challenge (which I was not prepared for) was my Chinese mother and father. Once Miles was born, my Chinese mother insisted on moving in and basically changing diapers and taking care of our new baby.
While I appreciated this, it was also infuriating at times. As a foreigner, and a new father, I deemed this extremely intrusive on my life, and we had many quarrels about her crossing the line. Perhaps if I were not as familiar as I am with Chinese or if my language skills were lacking, we could have had a blowup.
Instead, I kindly told my mother in Chinese that it is my responsibility as a father to take care of my family and newborn son. I am the one that wants to change my diapers, and even more so, that I felt it my responsibility as a father to be with my son every waking minute that I am not at work making money to provide for us.
She understood, and as of now, I still work hard to provide for my family, but during my holidays, during Chinese New Year and the summer, she is excused to let me be the full-time father that I want and have always yearned to be.
Now that my son is three and a half, I take him to preschool on my bike and insist on picking him up also. I have asked the vice principal of my school to rearrange my schedule so I can do it every day. I make him sandwiches, laugh and play with him every waking moment I am with him.
I potty train him and tell him to be a "big, strong boy". I hide under the covers with him while we lay in bed and tell him not to be afraid of ghosts or monsters. I use our flashlight to make shadow puppets with him on the ceiling before he goes to bed. We wash each other's bellybuttons when we shower together.
That's what being a father means to me.
Another question I am constantly asked is, "How is his English?" To be brief, he is only allowed to speak English to myself and his mother. That was a rule we had from the start. We also Skype a lot with grandma and grandpa in Florida/Canada. As of now, I attribute his English language ability to my prowess and conviction to teach him everything I can while I am with him. I am relentless in asking him questions and teaching him new vocabulary.
Currently, my wife is seven-month pregnant with our second child, and the challenge will be even greater as a father to be their every step of the way.
Being a father is not easy, but it is a joy and one that should be relished every time you look into your child's eyes. Reading books, teaching them English, teaching them right from wrong, potty training, showing them your favorite cartoons when you were a child. Everything is fatherhood for me.
I don't have many friends anymore, but that is a sacrifice one makes when becoming a parent. My best friends are my wife and my son (soon to be two). I appreciate my Chinese family's help, but I am a man after all; one who puts his children above and beyond everything else. I am an educator and understand the power of positive parenting and a strong role model a father can have first hand in a child's life.
Perhaps the Romance poet William Wordsworth put it best when he penned, "Child is the father of man". Maybe that's what makes fatherhood so great, is because it brings out the inner child of man, and makes us realize how frivolous all our problems as adults really are.
Now that I'll be a father again for a second time in less than two months, I can't wait. It truly is the greatest challenge, and feeling in the world.
I thank Beijing for giving me the opportunity to start and raise my family here. I first moved to China when I was 23. Now, I am 36, and am married to a beautiful Chinese woman who has given me the family I always wanted. I have a god job, a nice place to live, and even Lao Lao understands her place now.
I owe everything I have to this country. Perhaps the Chinese Dream isn't a dream after all...
The author is a Canadian teacher and writer who first moved to China in 2002. Fluent in spoken Mandarin, he currently lives in Beijing, is happily married, and makes not only his current teaching, but also parenting of his soon-to-be two boys his biggest priority in life.
*

评论内容:

*

验证码: