China Stocks Plunge Could Signal End of Bull Run
China Stocks Plunge Could Signal End of Bull Run
发布时间:2015-06-27 10:58
阅读:25次
评论:(0)
Index plunges 7.4% as equities dumped
By Li Xiang (China Daily)
Updated: 2015-06-27 07:52
An investor frets over falling stock prices at a brokerage in Fuyang, Anhui province, on Friday. Thebenchmark Shanghai Composite Index fell by 7.4 percent, the sharpest daily drop since June 10, 2008. [Lu Qijian / For China Daily]
Investors
make
for
the
exits
,
with
analysts
saying
market
heading
toward
'
bear
territory
'
Chinese equities plunged on Friday with the benchmark index suffering the worst single-daydecline in seven years and moving toward what analysts said is bear-market territory.
The Shanghai Composite Index tumbled by 7.4 percent, or 334.91 points, to close at 4,192.87.
About $767 billion in market value was wiped off, with more than 2,000 stocks falling by the 10percent daily trading limit.
Losses were even heavier on ChiNext, the country's Nasdaq-style startup board, with its indexdropping by nearly 9 percent, the biggest decline since it was launched in 2010.
In just two weeks, the benchmark Shanghai index has retreated by 18.8 percent from a peak of5,166.35 on June 12. Most analysts define entering a bear market as a decline of 20 percentfrom a recent peak.
Analysts said Friday's sell-off hit market sentiment hard, with investors dumping stocks becausethey saw little hope that the decline could be the buying opportunity they had anticipated earlier.
The sharp correction was attributed by observers to tightened liquidity conditions triggered by theregulator's crackdown on illegal leveraged trading and a new wave of initial public offerings aswell as uncertainty over the government's monetary easing policy.
Jiang Chao, an analyst at Haitong Securities, said the short-term liquidity-driven bull marketseemed to have ended.
"We have noticed a subtle change in government policy, as the previous round of monetaryeasing seems to be giving way to more emphasis on fiscal stimulus," he said in a research note.
Analysts said the recent recovery in property sales, a possible rebound in inflation, and anexpected economic stabilization in the second half of the year had delayed the need forpolicymakers to inject more liquidity to prop up the economy.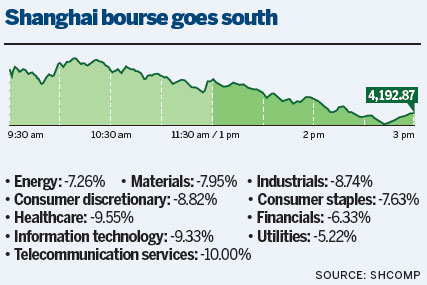 Jiang said such a policy shift had prompted many investors to drop their expectations of anyimminent interest rate cuts or of reductions in banks' reserve requirement ratio by the centralbank.
Most analysts said they believed the market was unlikely to rebound to its previous high level forthe rest of the year, as all positive aspects were already factored in and there were no "newforces" strong enough to act as a stimulus.
On Friday, China's securities regulator said the market fall was a "self-adjustment" after earlierexcess gains. The Shanghai index had surged by nearly 150 percent in the past year until therecent correction. The regulator urged investors to treat the recent volatility rationally and saidthere was still "generally ample" market liquidity.
One investor in Beijing, who requested anonymity, said, "All my gains have disappeared in aweek. I've paid the price for being too greedy and not leaving the market at the right time."
Foreign institutional investors have joined analysts in warning that valuations have risen too far.
Jonathan Garner, head of Asia and emerging-market strategy at US investment bank MorganStanley, said, "This is probably not a dip (in which) to buy.
"We think the balance of probabilities is that the top of the cycle on the Shanghai and Shenzhenmarkets and the ChiNext has now been reached."
But some analysts said they believed the boom in financial asset prices in China had not ended,as people would continue to shift their wealth from the property market to financial boursesbecause of limited investment options.
Jiang said the stock market appeared to have run out of steam for the rest of this year andinvestors may have to wait until next year for another rally.
*

评论内容:

*

验证码: