Stocks Tumble on Manufacturing Data
Stocks Tumble on Manufacturing Data
发布时间:2015-07-01 20:37
阅读:28次
评论:(0)
Stocks tumble on manufacturing data
By Dai Tian (chinadaily.com.cn)
Updated: 2015-07-01 16:02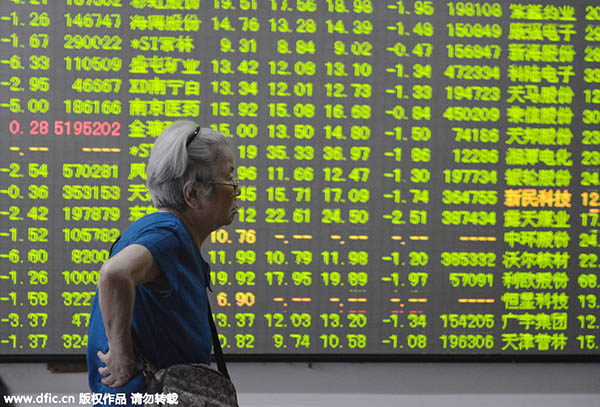 A Chinese investor walks past a display showing prices of shares at a stock brokerage house inHangzhou city, East China's Zhejiang province, July 1, 2015.[Photo/IC]
Stocks fell on Wednesday, following the biggest swing in the benchmark Shanghai index since1992, as the latest data showed factory activity remained sluggish.
The Shanghai Composite Index sank 5.2 percent to close at 4,053.7, dragged down by financialand shipping stocks, while the Shenzhen Component Index dropped 4.8 percent to 13,650.82.
The official Purchasing Managers' Index (PMI) stood at 50.2 in June, according to the NationalBureau of Statistics. The figure, even with the previous month's reading, was slightly below aconsensus expectation of 50.3.
About 800 stocks dived to a halt of 10 percent. The combined turnover of the two marketsreached 1.5 trillion yuan.
Brokerages led the decline, with Guoyuan Securities, Shanxi Securities and Sealand Securitiesfalling by the daily limit of 10 percent. Haitong Securities, CITIC Securities and Merchants'Securities slumped more than 5 percent.
The ChiNext, the country's Nasdaq-style gauge for Shenzhen-listed growth enterprises, plunged3.5 percent to close at 2,749.41, retreating from its 94.2 percent surge over the six months.
Volatility has increased as investors diverge on whether A-share's year-long bull was peaked.The Shanghai gauge swung 432 points on Tuesday, marking its biggest move since 1992.
The benchmark Shanghai Composite Index jumped 32.2 percent in the first half of the year, whilethe Shenzhen Component Index rallied 30.2 percent.
The number of A-share accounts opened by Qualified Foreign Institutional Investors increased by12 in May to 876, extending the growth streak to 41 months, latest data from China SecuritiesDepository and Clearing Corporation showed.
The CSI 300 tumbled 4.9 percent to close at 4,253.02 on Wednesday.
*

评论内容:

*

验证码: