Contribute more to UN peacekeeping
Contribute more to UN peacekeeping
发布时间:2015-11-15 17:03
阅读:22次
评论:(0)
Contribute more to UN peacekeeping
By Zhou Bo (China Daily)
Updated: 2015-11-14 08:12
CommentsPrintMailLargeMediumSmall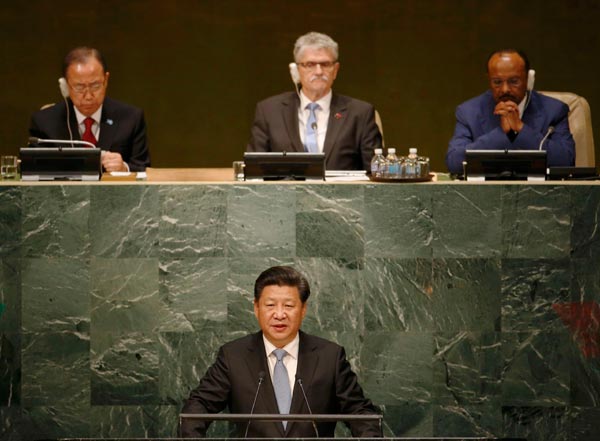 President Xi Jinping of China addresses attendees during the 70th session of the United Nations General Assembly at the UN Headquarters in New York, September 28, 2015.[Photo/Agencies]
What is the best way for the world to understand that a stronger China will shoulder greater international responsibilities? A quick answer is: peacekeeping.
China's peacekeeping record is honorable. Since 1990 it has sent more than 30,000 peacekeepers abroad. Now 2,883 military officers and soldiers are serving in nine different zones, stretching from the Middle East to western Sahara.
But Beijing can and will do more.
According to UN Secretary-General Ban Ki-moon, the number of major violent conflicts has almost tripled since 2008. UN peacekeeping operations now deploy more than 128,000 people on 39 missions, more than at any time in history. Still the proliferation of conflicts is outpacing the UN efforts. In short, Beijing has what Ban Ki-moon needs most: manpower. Beijing has a large pool of armed forces and police personnel that can contribute more to UN peacekeeping efforts.
Another advantage that China has is the quality of its manpower. The UN needs infantry soldiers for patrols, but it needs more sophisticated "enablers" such as engineers, helicopters and their crews, transport companies, communicators and medical personnel. Beijing has them all.
Chinese peacekeepers are among the most welcomed by the UN and local people. They are considered diligent and disciplined. Misconducts such as sexual exploitation and abuse by some UN peacekeepers in host countries are inconceivable for any of them.
China has all the reason to beef up its peacekeeping efforts to consolidate its credibility, enhance its image or protect its own interests. To a large extent, the UN is synonymous with peacekeeping. As one of the permanent members of the UN Security Council, all UN resolutions including those on peacekeeping will at least, in part, reflect China's views on global governance. An increased number of Chinese peacekeepers will help enhance the image of China as a responsible nation. That would be in China's own interest, too.
Since at least 1 million Chinese workers are in Africa, those in war-torn countries would feel safer to see Chinese soldiers donning the UN's light blue helmet and patrolling the nearby streets.
These conform with the announcement of President Xi Jinping at the Leaders' Summit on Peacekeeping at the UN headquarters in New York on Sept 28. Xi told the world that China would, among others, take the lead to set up a permanent peacekeeping squad, build a peacekeeping standby force of 8,000 troops, and train 2,000 foreign peacekeepers in the next five years. China would also provide $100 million worth of free military aid for the African Union to support the establishment of the African Standby Force and the African Capacity for Immediate Response to Crises.
The warmer-than-polite applause in the UN General Assembly first reflected the audience's surprise and then enthusiasm. What could be better news than one of the most powerful economies in the world deciding to tremendously upgrade its peacekeeping efforts? Most impressively, China vowed to increase the number of its peacekeepers after announcing it would downsize its military by 300,000 personnel.
What is the road map of China's peacekeeping in the future? As a rule of thumb, China's peacekeeping efforts will grow irreversibly and unabated. Many of Xi's proposals give a glimpse of China's determination in this regard.
The second certain factor is that China will contribute more to strengthening regional institutions, particularly the African Union. As of now, seven out of the nine missions that Chinese soldiers have joined are in Africa. In recent years, China has been providing financial support to the African Union, which, in turn, is used in African Union-led missions such as peacekeeping in Somalia by soldiers from Uganda and Burundi.
Finally, China will certainly help in regional capacity building primarily through training. China has two peacekeeping training centers, and the proposal for training 2,000 foreign peacekeepers is another new and big beginning. This is also an era in which China can deepen cooperation with the West in providing joint training to local peacekeepers, especially in Africa.
The author is an honorary fellow with the Center of China-American Defense Relations, Academy of Military Science.
*

评论内容:

*

验证码: